Bonding Against Adversity
'Bonding' is a Texas Corporation founded in March 2010 by Thomas Burdette and Mariana Sanchez to become a community service non-profit organization. Bonding received its IRS 501(C)(3) decision letter in August 2010. Bonding's mission is "Helping Others Help Themselves".  Bonding identified that families, primarily immigrant families of Hispanic/Latino ethnicity, in the Aldine-Greenspoint area of Houston, Harris County, Texas were not being adequately served. The families were living in unsafe conditions in multi-family housing, many were in poor health because of poor nutrition, students were at risk of dropping out of school and many could not afford to complete their integration into the fabric of the United States' culture by pursuing United States citizenship.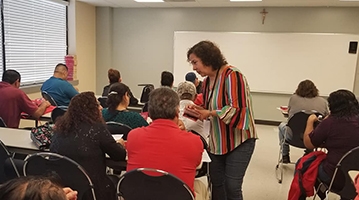 Civic education, history of America, reading and writing English, information about the N400 form, vocabulary for the Citizenship Interview and simulated interviews are all part of the classes to help people prepare to pass the Citizenship test.
We hold workshops where volunteers assist lawful legal residents complete the 23-page N400 Application for Naturalization form. These workshops are held at various locations throughout Houston.