COVID-19 UPDATE:
In response to recommendations from federal, state and local governments, in respect for the health of those we serve, volunteers, staff and host sites, Bonding Against Adversity (Bonding) is suspending its Citizenship Application Workshops and Citizenship Preparation Classes through April 11, 2020.  READ MORE...

If you require additional information about COVID-19 please refer to the Center for Disease Control website at www.cdc.gov.

Please note: USCIS announced that any testing, treatment or services relating to COVID-19 will NOT be used against immigrants in their public charge evaluation. See the USCIS alert here. Anyone with symptoms should seek treatment or preventitive services.
Now that you're staying home for a time, why not fill out the census? You can complete the census easily and safely from home.  You can do it Online at https://my2020census.gov/  or by phone:  1-844-330-2020 or by mail if you received the paper form.  Visit https://hagasecontar.org/
Sorry, there are no upcoming workshops scheduled. Please check back again soon.
Sorry, there are no upcoming new classes. Please check back again soon.
Upcoming Parenting Classes
A series of programs to provide parents with positive ideas to help their children. These bilingual classes include stress management, building positive self-esteem, discipline without punishment and more.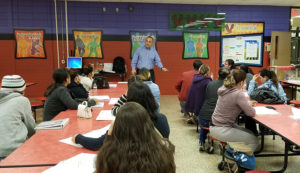 Sorry, there are no parenting classes scheduled at this time. Please check back soon.